5 Ad Tech Trends, We Think Will Be The Center of Discussion at ad:tech New York 2016
By
Join Mediastinct™ at booth 232 for product launch of dotWriter™ & Engagemeant™ at ad:tech New York 2016, November 2 to November 3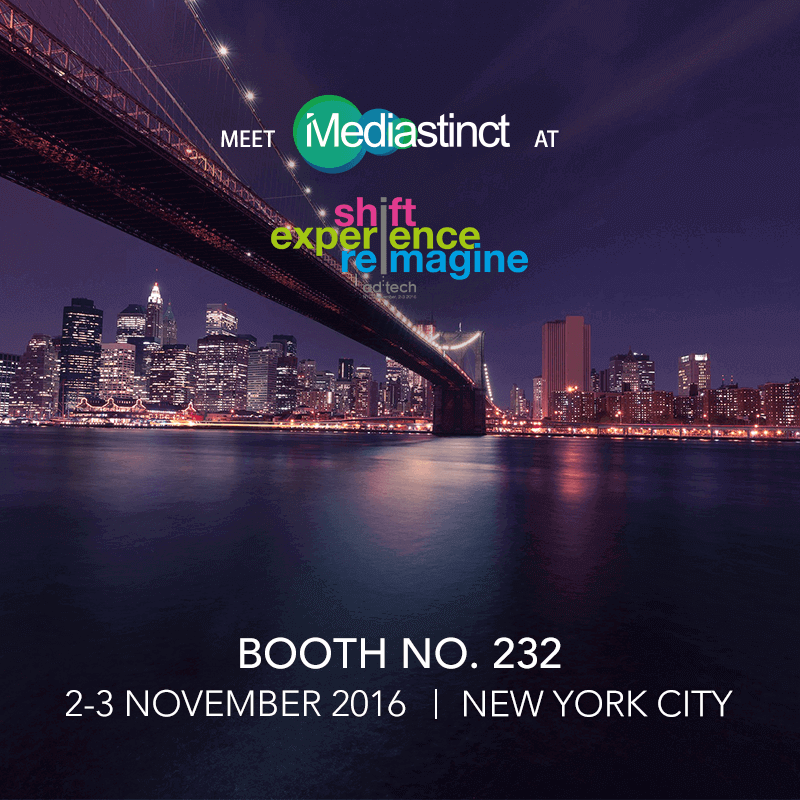 With ad:tech just around the corner, we thought it'll be helpful to round up all the advertising- tech trends that we expect to be the buzz words at ad:tech New York this year. So that you can network (and exhibit) at ad:tech with a complete sense of what's going on in that tough executive's head – the one you've been trying to crack for a while now.
Mobile programmatic ad buying
Programmatic ad buying & tracking is one of the fasted growing ad-tech trends. With industry heavyweights stressing on the importance of engaging consumers rather than simply bombarding them with ads – programmatic is going to be 'the' buzz word at ad:tech New York 2016.
With increased consumer- mobile interactions, advertisers are looking to leverage video ads for targeting users on mobile.  In 2016, programmatic video ad spending is capping at $6.18 billions, which makes up for 60% of all digital video ad spendings. So, don't forget to attend sessions at Programmatic Punch this year!
Looking to engage a platform to track and direct your programmatic media buying/ selling?
Head over to Engagemeant™ – With dedicated account management and custom ad units, you can promote your brand through engaging ad formats across all devices. Request a demo to understand how you can capture 70% of your audience base through content advertisements!
Beating ad blockers
While the hype around ad blockers will die down, that doesn't mean they are going away. Consumers have become hyper-sensitive to ad blockers and the key to preventing them from using it is – creating a personalized user experience.
Let's face it – as consumers, we all hate ads that are disruptive and completely irrelevant to us. The key is to balance relevant content and ads – to dispel your audiences' hatred for ads. So if ad blockers are your major concern, we recommend attending – AD-BLOCKING on Day 1 with Andy Oaks, MD, The drum, Benjamin Dick, Director Industry Initiatives, IAB, John Montgomery, Executive VP Brand Safety, Groupm, Jim Daily, President USA & Canada, Teads TV and Michelle Zitz, Director of Global Data Solutions, The Economist. 
Multi-channel advertising & exploring new platforms
Cross device targeting and tracking is another ad tech trend you need to look out for. With consumers moving in and out of platforms seamlessly, and the emergence of new ad platforms such as virtual reality – it has become more important than ever to deliver cohesive messaging across platforms.
With mobile ad and tracking are catching up, we'll have to continue to adapt content and drop little breadcrumb reminders across all devices – to find the perfect ad mix for our consumers.
Programmatic ad buying + virtual reality + native content is definitely going to be trending at ad:tech New York this year. We recommend attending the keynote session- New Medium, New Rules : How Virtual Reality Will Transform Media and Entertainment by Guy Primus, Founder and CEO, The Virtual Reality Company
Contextual creatives and personalized content
The rest of 2016 and 2017 will be all about personalized content. So if you haven't taken this seriously yet, start acting now!
Tailor made content is the backbone of native advertising. Do your research – invest in data to know where your users came from, what they did on which device and learn their preferences. This is the only way to stay alive in the age of programmatic – make your audience think of you as a companion rather than a marketer.
However, most small and medium players face a problem when it comes to balancing data collection and premium content generation in-house. While budget is an issue for some, content generation is not everyone's forte.
So why don't you consider outsourcing the content? Head over to dotWriter™ and acquire economical custom made content, that's in line with your audience's preferences. It's faster, competitive and gives you one thing less to worry about!
Hyper personalization
Its all about timing, relevance and delivering ads at the right time in the buyer's journey. Consumers expect us to know their needs and interests, but not be creepy about it. Wouldn't you feel weird, if you saw a  Starbucks ad 5 minutes after you drove through their drive-thru?
There's a fine line between engaging consumers with personalized content and alarming them with too much personal knowledge. We're looking forward to the keynote session by David Cohen, President North America, Magna Global – How to Meet the Demands of an Ever Changing Customer : Insights from Leaders in the Media, Marketing and Content Business.
Ad Network Mediastinct™ will be exhibiting at ad:tech New York this year – drop in at booth 232 for cool freebies!
So if you're an advertiser in the APAC Region or are looking for premium custom content solutions – Meet us at Booth No. 232, as Mediastinct™ Co-Founders Samron Jude and Rohan Mehta along with Director Mariel Fonseca and Business Development Manager Niranjan Sawant launch 2 exciting new products – premium content marketplace, dotWriter™ and native ad exchange/ platform, Engagemeant™ at ad:tech New York 2016, from November 2 to November 3.
Please reach out to us at contact@mediastinct.com to schedule a meeting at ad:tech New York 2016. Even if you aren't attending ad:tech New York this year, but would still like to catch up with us, drop in a few lines, we'd love you hang out with you in New York City.
Looking forward to see you there!
About Mediastinct™
Founded in 2012, Mediastinct™ is an ad network that offers search and video advertising solutions on a global level. With the acquisition of local search agency SEMP.com and premium content market place dotWriter.com, we aim to be one of the top internet technology providers in the world.
About dotWriter™
dotWriter.com is a sister concern of ad exchange Mediastinct™. Its a premium content marketplace where you can meet the right set of writers and custom source all your content needs ranging from commercial content, content marketing, script-writing, poetry and foreign languages.
About Engagemeant™ 
Engagemeant.com is one of our most ambitious projects. Its a sister concern of ad exchange Mediastinct™. A native ad exchange, its a platform that enables you to optimize your content inventory and gauge the success of your campaign through relevant parameters. 
Stay tuned for Latest Updates on Mediastinct™ at ad:tech New York 2016 –
LinkedIn: www.linkedin.com/company/mediastinct
Facebook: www.Facebook.com/Mediastinct
Twitter: www.Twitter.com/Mediastinct
Instagram: www.Instagram.com/Mediastinct