Mediastinct is exhibiting at dmexco, Cologne – September 13-14, 2017
By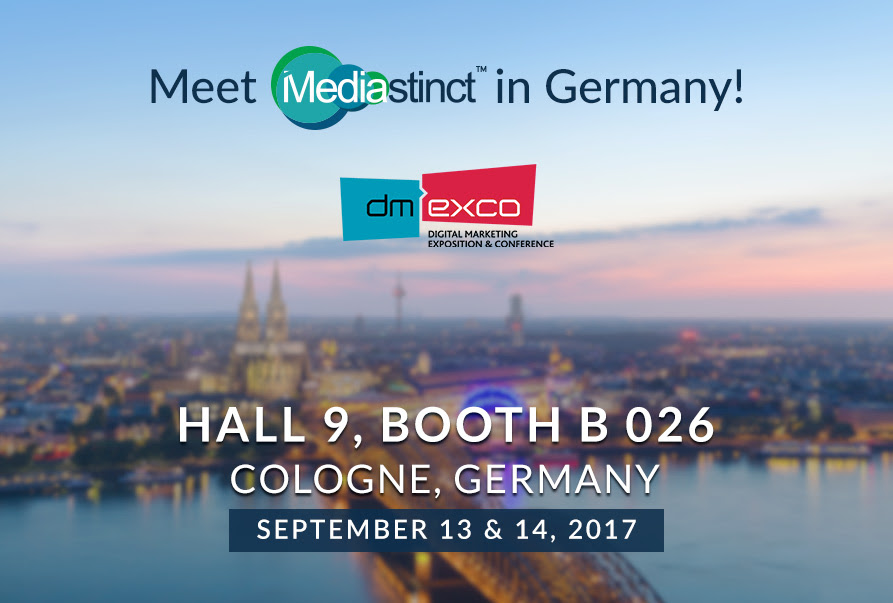 Drop by at Booth B26 in Hall 9.
Mediastinct™ will be exhibiting at dmexco – one of the world's largest digital marketing expositions – on September 13-14, 2017 in Cologne, Germany. Co-founders Samron Jude & Rohan Mehta, along with Director Mariel and Business Development Manager Janvi will be available at Mediastinct™'s booth B26 in Hall 9.
Mediastinct™ (www.mediastinct.com) is an next-generation programmatic marketplace for advertisers, publishers and independent writers. We apply state-of-the-art technologies to improve monetization across the consumer's path through content to purchase. Our contextual ad exchange and demand-side platform offer a unique method of discovering audience segments and dynamically messaging specific users. We achieve strong campaign results for advertisers and enable publishers to monetize audience attention with a range of engaging display, search and video advertising formats. Our network has surpassed 1 billion+ searches and powers a unique dataset of consumer insights across all of our programmatic marketplace, integrated with our network of professional content creators that offer advertisers and publishers high-quality editorial and/or native content at scale.
Get to know more about our content marketplace dotWriter™ and native ad exchange Engagemeant™.
LinkedIn: www.linkedin.com/company/mediastinct
Facebook: www.Facebook.com/Mediastinct
Twitter: www.twitter.com/Mediastinct
Instagram: www.Instagram.com/Mediastinct